Ceará, in the Northeast of Brazil, is full of magnificent and varied sites, guaranteeing exoticism, relaxation, and authenticity, suitable for the discovery of numerous sports activities; discover Brazil differently, the splendor of its landscapes and the powerful revitalizing energy of its fresh and saltwater, by traveling with Kite-On.

Choose à la carte and mix according to your desires the different activities offered in addition to kitesurfing: Yoga, Fitness, Stretching, Capoeira, Excursions…:

All the activities are proposed by professional speakers whose objective is to make you share their passion!
Yoga: the lessons are collective or individual, on the basis of one lesson per day or more according to your desires (cards of 7, 10 lessons or more).
Stand-Up paddle: Go and discover the Rio Trairi and go up in the mangrove to the small typical village of Cana Brava, a very easy excursion even with family.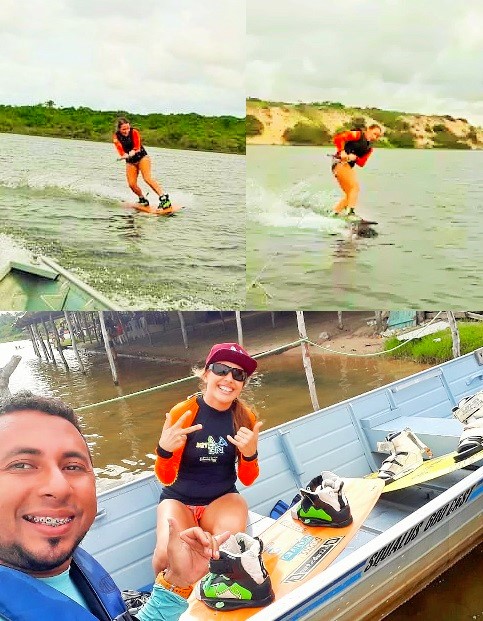 Wakeboard: Another way to discover board sport in the beautiful setting of the Almecegas lagoon, 100% sport and fun with Chico and his team who will make you slide behind their boat

Fitness and Samba: Mix according to your desires: Zumba, Muscle strengthening, Abs, Buttocks, Dance (Ragga, Hip-hop, Samba – it's the perfect moment, a souvenir to bring back from your vacation!), ShBam, Aerobic, Stretching.

Stretching Special Kiters: Essential for kiters to stay in shape and be able to kite all week without getting injured and without accumulating fatigue, learn to stretch yourself and adjust your equipment to avoid joint and muscle disorders, do a reset muscle tension after each session.

Capoeira: Kite-On offers introductory courses where you will discover this Brazilian martial art (another very typical souvenir to bring back in your suitcases !!) through the movements (the game), the roda (round formed by all the participants), music (songs and instruments), and also the history of capoeira, its origin and its evolution, inseparable from Brazilian culture.
Opportunity to participate in advanced courses and events in the region.
The "passeos" or excursions: they are generally carried out in quad or in a buggy, with or without a guide, and allow you to discover magnificent sites such as the Das Almecegas Lagoon, a freshwater lagoon bordered by the splendid tropical vegetation of the Fazenda installed on its banks, Flexeiras, superb beach with crystal clear waters, Mundau, a lagoon of turquoise water opening onto the sea, of breathtaking beauty….